Anthony Grainger police shooting death: No gun in car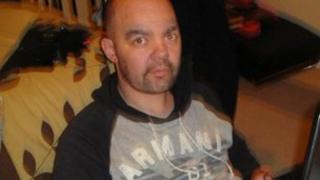 A detailed search of a car in which a man was shot dead by police has found no weapons, the IPCC has confirmed.
Anthony Grainger, 36, died from a single gunshot wound to the chest in the incident in Culcheth, Cheshire, on Saturday evening.
The Independent Police Complaints Commission also said no firearms or weapons had been found on Mr Grainger.
It said the red Audi which Mr Grainger was in had been stolen and had false registration plates on.
The car's tyres were shot at twice and a CS canister thrown into the vehicle by Greater Manchester Police officers.
'Understandably devastated'
An "initial visual search" inside the car and the immediate vicinity after the incident had also found no weapons.
The IPCC confirmed one round was fired by an officer carrying a Heckler and Koch MP5 carbine.
The shot went through the windscreen and struck Mr Grainger while he was sitting in the driver's seat.
IPCC Commissioner Naseem Malik said: "I met with Mr Grainger's mother and partner on Monday to convey my sympathies and explain our role.
"They are understandably devastated by what happened to Mr Grainger and I appreciate they will have many questions they want answers to.
"We will endeavour to answer those questions through our independent investigation."