First Great Western buffet cars made seating carriages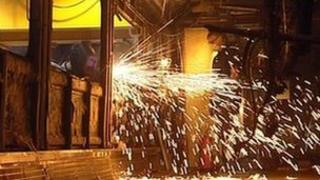 Disused buffet cars are being stripped and turned into seating carriages by rail operator First Great Western (FGW) to try to curb overcrowding.
The rail firm is refurbishing 15 buffet cars and 33 former high speed carriages which will add one extra carriage to the London rush hour services.
Passenger group Railfuture has praised the move but said it is a "stopgap measure" and more capacity is needed.
FGW said it had taken positive action to increase seating capacity.
Managing director, Mark Hopwood, said: "We've found some buffet cars which haven't been in use for a while. We've sent those up to a railway works in Scotland.
"They're being stripped, completely refurbished and rebuilt from scratch inside with 84 seats."
'Complete scramble'
Work to refurbish the 48 additional carriages started last month and should be rolled out across the network by September.
Commuter, Matthew Critchley who travels from Kemble in Gloucestershire to London, said: "From London, it's a complete scramble to get on the train in time to get a seat and often you have to stand until Reading or Didcot Parkway.
"I think people who have season tickets ought to have guaranteed seats, they ought to have more carriages and trains for the price we pay."
Bruce Williamson, from the transport pressure group Railfuture, said: "The problem is you can't just go to a train dealer and buy one off the shelf, these things take an awful lot of time.
"We're suffering from a lack of long-term investment.
"What people don't understand is that rail operators don't own the trains, they lease them and the operators are micro-managed by the Department of Transport.
"Every little helps. These interesting, imaginative ideas have got to be welcomed but we need to recognise these are stopgap measures."