West Midlands crime role 'not for ex-officer'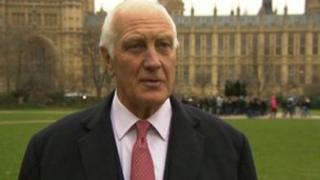 The new role of elected police and crime commissioner in the West Midlands should not be filled by an ex-officer, a former chief constable says.
Lord Geoffrey Dear, who headed West Midlands Police between 1985 and 1990, said an ex-officer would make it appear the post was not independent.
"The perception is you want someone separate from the police who is holding the police to account," he said.
Commissioners for 41 police forces will be elected on 15 November.
The commissioners, who will take up posts outside London, will set the priorities and budgets for their police force and hire its chief constable.
The coalition government said thenew commissionerswould be elected by the public to hold police forces to account with the aim of cutting crime and delivering an effective and efficient police service.
'Wrong camp'
Lord Dear, a cross-bench peer, said the intention was for the individual appointed to have an independent role.
"That theory falls down already if you have an ex-chief constable, no matter how good they are, the public perception is that they are in the wrong camp," he said.
However, Ian Edwards, chairman of West Midlands Police Federation which represents serving officers, said the danger was that people would seek the new role because it was high-profile.
"I would like to think in the West Midlands that the people who have been in touch with us are doing it for the right reasons," he said.
"But I am sure up and down the country there are people who are standing who haven't had the political career that they wanted and are seeking out another high-profile job in order to fulfil themselves."