Oxfordshire hosepipe ban beaten by gardeners own sources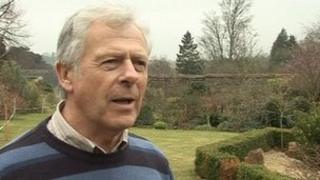 Oxfordshire faces a hosepipe ban from 5 April.
Thames Water and six other firms said they will impose water restrictions after two unusually dry winters left reservoirs, aquifers and rivers below normal levels.
While this could be disastrous news for many gardeners and allotment owners, some are turning to their own supplies to beat the ban.
"I'm probably in a very envious position at the moment," says Richard Preston, a retired vegetable grower from Steeple Aston.
He is the chairman of the local gardening club and passionate about the acre of well-tended land around his north Oxfordshire home, which he is able to keep it looking lush and green with the help of harvested rainwater.
'Foresight and fortune'
"We've just built a new house which we've moved into only a few months ago and in the design of the house we decided we should try and retain all the water from the roof," said Mr Preston.
"We've installed a 4,500 litre rainwater harvester which means all the rainwater I collect off the roof of the house goes into a massive tank underground.
"Then I've just got to switch on the switch and an electric pump sends it up to all my outlet taps which are in the garden.
"So hopefully if we have the occasional rain that I can fill up the tank with, we should be ok for water."
Mr Preston said his investment had been "great foresight and great fortune considering the situation at the moment" but thinks more should be done by the water companies.
But at a cost of about £5,000, underground reservoirs are not the solution for everyone.
Steeple Aston has 23 allotments and last May the allotment association paid to have mains water connected.
This automatically fills three metal troughs so users can fill their watering cans.
Chairperson Jennifer Hallam said: "We didn't get taps installed because it would allow people to connect a hosepipe and waste water.
"Everyone has been very grateful for the water because we've struggled on for years and years without it."
But before turning to the troughs the allotment owners also use their own rainwater which they collect in butts next to their sheds.
'In this together'
A spokeswoman for Thames Water said they would encourage people to harvest rainwater and collect or to use "greywater" to recycle in their garden.
Using the water from the trough with a watering can or bucket was also acceptable under the new restrictions.
But she added: "We want everyone to use as little water as possible - we're all in this together so the less water our customers use now, the more we'll have to supply them with later."
Hosepipe bans are nothing new and Mr Preston said: "Way back in 1976 and many, many years since we've had this situation down in the south east and the midlands, there has been a hosepipe ban because of a lack of water.
"We live in an island which has a massive high rainfall in the north of the country i.e. Scotland, we have severe drought problems in the south east.
"Why don't they consider getting water from the wet part of the country to the dry part and not wait for this to happen all over again?"
However, the Environment Agency considered creating a network of pipes to transfer water south in 2006.
It concluded it would be massively cheaper and less environmentally dangerous to improve the infrastructure in the south.
Until that happens though, gardeners, allotment owners and water companies must keep looking to the skies for salvation.