MP Adrian Sanders warns on regional benefits system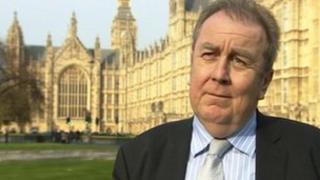 A localised welfare system would penalise deprived parts of the South West, a Devon MP has said.
A national cap of £26,000 a year became law on 8 March and the government is not ruling out some form of localised welfare system.
Supporters of the idea, which could link benefits to local housing costs, say it would give more incentive for people in low wage areas to get a job.
But Torbay Liberal Democrat MP Adrian Sanders said it would be unfair.
Work and Pensions Secretary Iain Duncan Smith said last week regionalising benefits was "maybe something we would need to look at" and "there was a debate to be had" on the subject.
Mr Sanders said a move to regionalise benefits could lead to people in welfare-dependent parts of the South West where housing costs are lower, getting less.
He said: "The government isn't going to be putting up benefits.
"It's only going to be looking at areas where they can cut benefits."
Cornwall Labour councillor Jude Robinson said: "The issue is that working should pay more than being on benefits.
"Within that you have got to have some sort of benefit cap.
"We're saying that a cap should take account of local circumstances, specifically local housing costs because that is the the big variable in the West Country."
The government said it was unlikely any further changes to benefits caps would happen in the near future.