Environment Agency officers take underground river walks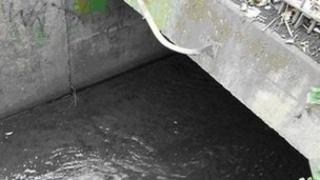 The Environment Agency has been going underground to reduce the risk of flooding in the north east of England.
Usually, remote-controlled cameras are used to inspect the 6.2-mile (10 km) river tunnel network is running freely.
However, in places such as the Middle Beck where it flows under Middlesbrough and the River Ouseburn in Newcastle, a specialist team has to walk through.
They checked for blockages or damage which could lead to flooding above ground if river levels rose.
In Newcastle, officers found a wedged oil drum, deformed tunnel walls and cracked brickwork.
The agency will be working with the council to identify necessary repairs.
Katja Leyendecker, the Environment Agency's project manager, said: "People are often unaware that there are rivers running under their feet.
"Exploring these underground spaces can be dangerous but it is also an important part of our work to reduce flooding."