Killed soldier Pte Daniel Prior 'was helping colleague'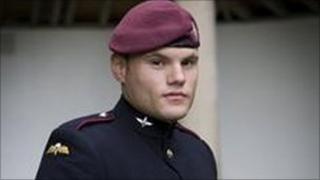 A soldier was mortally wounded in a blast in Afghanistan as he went to the aid of a comrade, an inquest has heard.
Pte Daniel Prior was on patrol in Helmand province when he triggered an improvised explosive device.
The 27-year-old, from 2nd Battalion the Parachute Regiment, died two days after being flown back to the UK.
Birmingham Coroners Court heard the bomb detonated moments after he was handed a machine gun by a colleague climbing down from a roof.
Lt Joe Greenwood, who commanded the patrol, told the inquest: "He was an exemplary Private soldier.
"The circumstances under which Dan was injured were a tragedy, but he was injured in a manner that was a measure of the man - he went to help a friend.
'Saved lives'
"He just instinctively went to help out - which was the nature of the guy.
"I don't believe Dan's death was for nothing - on that day he definitely saved the lives of perhaps me and other soldiers on the ground."
Pte Prior had been providing fire support for his fellow paratroopers during a patrol in a small village on 16 March last year when the bomb detonated.
Several soldiers came to his aid, applying two tourniquets to each of his lower limbs, administering other treatment and carrying him to a helicopter.
Coroner Aidan Cotter praised those who went to the injured soldier's aid.
He said: "There is no doubt at all in previous years he would have died where he fell. It is quite clear that the people that were with him saved his life, at least initially."
Pte Prior was born in Brighton and lived in Peacehaven before moving to Colchester with his wife. He had previously returned to the UK during his tour of duty for the birth of his son, Logan.
Mr Cotter recorded a verdict that Pte Prior was killed by the enemy while on active service for his country.