Scaffolding put up at wrong house in postcode mix-up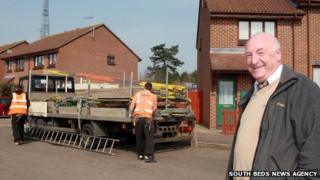 A coach driver had scaffolding put up at his house after a postcode mix-up saw workers sent to the wrong address.
Bob Sadler, 63, was "absolutely livid" when he returned home to Windmill Close, in Barkway, Hertfordshire, to find his property surrounded by poles.
The scaffolding had been intended to help fix taxi driver Artur Da Silva's leaky roof, in Windmill Close, in Bassingbourn, Cambridgeshire.
Both men share an SG8 postcode but live eight miles apart in separate counties.
'Final straw'
Mr Sadler said Monday's incident was the latest in a series of errors.
Over the past year, the Barkway residents have had take-aways, post, cookers, computers, a television, a mattress and a Christmas Turkey wrongly delivered.
Even the police and bailiffs have turned up at homes the wrong side of the county border, residents said.
The men believe the fault has been caused by delivery drivers not entering the full postcode of their respective addresses into their sat-nav systems.
Father-of-three Mr Sadler, who has been a coach driver for 34 years, said: "The trouble is the delivery people put the address into the sat-nav and the postcode gives them the right area - SG8 - and it brings them here.
"They need to change the name of the street in Bassingbourn."
The scaffolders were told they were at the wrong address by Mr Sadler's mother-in-law Lill Byatt, 84, who lives around the corner from him and his wife, Lin, 53, a shop manager.
The men checked with their boss but were told they were at the right location and carried on with their work.
Windmill Close, in Barkway, is made up of housing association semi-detached bungalows and two-bed semi-detached homes.
'Absolutely livid'
The newly-built Windmill Close, in Bassingbourn, is also a housing association road with over 20 semi-detached homes.
Mr Sadler said: "I was absolutely livid when I came home and saw what had happened. I stood there with my arms folded.
"It felt like I had been invaded."
He added: "This was the final straw. It has been going on for too long.
"In the past we have had a hob delivered here by mistake."
Mr Da Silva, 30, had taken the day off work to wait in for the scaffolders who never came on Monday.
He lives with his wife Andrea, 28, and their three daughters, aged seven, five and three.
He said: "I waited in all day and they never came. We had a leak caused when the snow came and the tiles are going to be fixed.
"This was not the first time. My cooker was delivered to Barkway by mistake as well."
Royal Mail said it was the responsibility of sat-nav providers and companies to update their records.