Military couple honeymoon in Camp Bastion, Afghanistan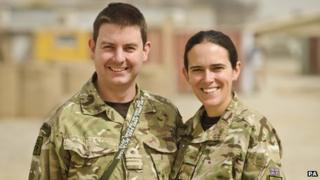 An RAF squadron leader and a Navy lieutenant commander are honeymooning at Camp Bastion in Afghanistan.
Rachel and Gareth Mawdsley were married last year but a few days later had to begin training for deployment to Helmand Province.
The couple, who live in Bath, admitted the war zone was not their first choice destination.
However, Mrs Mawdsley said: "To be honest we are lucky to be in the same place at the same time."
The couple, who met through their roles in the military, recently celebrated spending six months together with a meal at a steak house on Camp Bastion.
'Shared nachos'
Mr Mawdsley, 32, who is from Liverpool and serves with the Navy, said: "There's no alcohol on base so we each had a can of pop instead of a bottle of wine.
"As we shared some nachos, we were surrounded by US marines and everybody was carrying weapons.
"But when we looked at each other it was possible to imagine it was a normal romantic night back home."
Mrs Mawdsley, 35, from Newbury in Berkshire, added: "I suppose the hardest thing is we are always surrounded by people, but we try to go for a coffee or a run together so we have some time just for each other.
"The worst scenario would have been one of us returning from a six month tour just as the other was leaving.
"There are people out here who are away from their loved ones for months on end so it is nice to be here together and for each of us to understand what life is like in Afghanistan.
"It's not our perfect honeymoon but it's worked surprisingly well."
The couple hope to have a more relaxing honeymoon in Rwanda and Tanzania when they return from duty.
Mr Mawdsley said: "We plan to go on safari, do a bit of trekking and most of all lie on a beach together."