LMS Princess Elizabeth whistle starts jubilee flotilla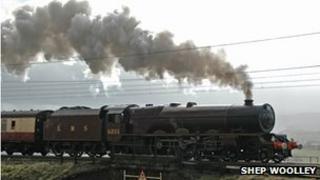 The start of the Queen's Diamond Jubilee celebrations in June will be signalled by the whistle of a locomotive built in Crewe.
The LMS Princess Elizabeth will start a flotilla of boats sailing from Chelsea Bridge along the River Thames.
Clive Mojonnier, fromthe societythat looks after the locomotive, said it felt "very privileged" to be involved.
The locomotive, built in 1933, is based at the Tyseley locomotive works in Birmingham.
According to the Princess Elizabeth Locomotive Society, the LMS Princess Elizabeth set the record for the longest and fastest non-stop run with a steam-hauled passenger train in 1936.
The Princess Elizabeth was bought for £2,160 in 1962 from British Rail, which was selling it for scrap.
The restored locomotive was inspected by the Queen when she opened the Crewe Heritage Centre in 1987.