Bunbury Mill in Cheshire reopens to public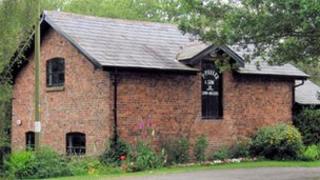 A 19th Century Cheshire mill reopens to the public later after being closed for two years.
The Grade II listed Bunbury Mill is believed to date back to 1844, when it was built to replace a previous mill that was destroyed by fire.
After being close to demolition in 1966, it was restored to working order by North West Water, now United Utilities, in 1977.
Ownership has now transferred to the Bunbury Watermill Trust.
The site has been used for corn milling since 1290 and the mill once supplied Chester with flour, delivered to bakeries in the city by horse and cart.
'Great honour'
It is one of the few remaining watermills in the region capable of grinding wheat to food standard flour.
It later manufactured animal feedstuff until 1960 when it was destroyed by a flood.
The mill operated as a museum and educational facility with fully working machinery until 2010 when it was closed as a cost-saving measure.
Volunteers continued to tend to the mill's grounds and keep the equipment in working order.
Chris Matthews, head of sustainability at United Utilities, said: "We were always keen for the watermill to be preserved and it's a great honour to pass on the ownership of the mill to the very safe hands of the Bunbury Watermill Trust."
Ernest Croley, chairman of Bunbury Watermill Trust, said: "We believe the mill has important historic and educational value for both the immediate local community and the wider region.
"We will now be able to deliver lessons in the dedicated museum and classroom on the history of mills and breadmaking."