Duke of Kent honours lost war grave plotters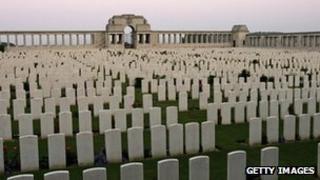 The Duke of Kent has honoured three men for their work to make Commonwealth war graves more accessible.
Bruce Caldwell, from Northamptonshire, Terry Denham and Mike Cole, both from West Sussex, have tracked the GPS co-ordinates of about 20,000 sites.
Their work will allow the graves to be found using satellite navigation.
The duke, who is the president of the Commonwealth War Graves Commission CWGG), presented the men with commendations at St James's Palace.
Mr Denham, from Haywards Heath, set up a project in 2007 to research casualties from both world wars who had been omitted from CWGC's list of war dead.
He became involved with the marking the co-ordinates of the cemeteries about two years ago by supplying information to Mr Caldwell, from Braunston, who had started plotting their locations.
Voluntary work
Mr Denham said: "There are three of us finding the coordinates, but we all check each other's work.
"It's been a long process, because pinning the location on Google Maps could be challenging."
Mr Cole, from Crawley Down, has a particular interest in the Battle of the Somme and toured battlefields and cemeteries with a group led by Mr Denham.
The three men's unpaid task is not yet complete, with sites in Canada and South Africa still to be plotted.
Matt Morris, from the Commonwealth War Graves Commission, said: "We are so grateful for what these guys have done.
"They put in countless hours, using Google Maps and Streetfinder to establish the coordinates for thousands of war grave cemeteries and plots.
"The Commission wants to make its memorials and cemeteries as accessible to as many people as possible, so this is a fantastic resource."