Yorkshire Water criticises dog mess left hanging on trees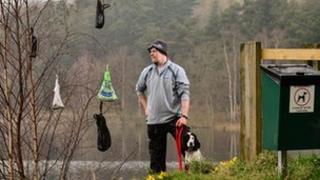 Yorkshire Water has criticised "the senseless behaviour" of some owners who hang bags of dog mess from tree branches.
The company said the problem was particularly bad at four reservoirs - Eccup near Leeds, Fewston and Swinsty, Harrogate and Langsett in Barnsley.
It said it cost about £40,000 to clear up dog mess at its sites.
Geoff Lomas, from Yorkshire Water, asked owners to clean up after their pets and to use the bins provided.
'Incredibly sad'
The recreation and catchment manager said: "It's incredibly sad that despite our best efforts... people are having to spend more time watching where they're walking rather than actually enjoying their walk."
The company said it was only a "small minority" of dog owners who caused the problem.
In an effort to deter this behaviour Yorkshire Water organises visits to its sites by council wardens who are able to fine anyone not clearing up after their dog.
Matt Thompson, of Yorkshire Water, said: "We don't want dog mess anywhere near our reservoirs."