West Midlands Police report 'fall in crime'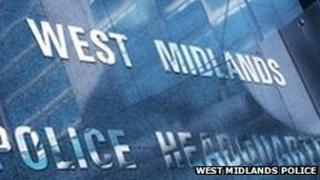 Overall crime levels in the West Midlands are lower than at any time since 2002 when comparable recording began, according to police.
The West Midlands force said there were more than 20,000 fewer victims of crime between April 2011 and 27 March 2012, compared with the previous 12 months.
The force said it had been achieved "against the backdrop of a period of unprecedented change".
It is working to save £126m over four years.
The force said there were 190,582 crimes reported in the last year, compared with 212,336 over the same period the year before.
Deputy Chief Constable Dave Thompson said: "Since March last year (2011), over 1,700 staff have left the organisation but we have continued to respond to calls effectively and crime levels are back to those not seen in a decade."
As well as the fall in total recorded crime, the force said there had also been reductions in "most serious violence, burglary, vehicle crime and business crime".
Mr Thompson said that performance from September 2011 to January 2012 was "particularly impressive with the lowest recorded levels of robbery for a decade".
"We are totally committed to improving performance over the coming year and, with the public's continuing help and support, I am confident we can build on these encouraging positive results even further," he added.