Tributes paid to Essex peer Lord Newton of Braintree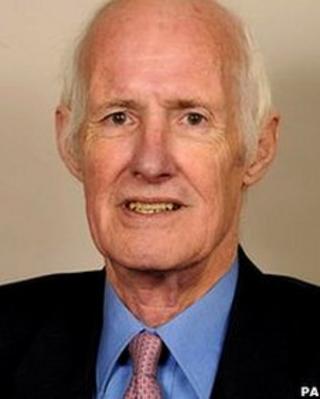 Politicians across the political divide have been paying tribute to Lord Newton of Braintree, the former Cabinet minister and Essex MP, who has died after a short illness.
For 23 years he represented Braintree for the Conservatives and after losing his seat played a key role as a member of the House of Lords.
"His dedication was formidable," says his constituency neighbour and long time friend, Sir Alan Haselhurst, the Conservative MP for Saffron Walden.
"I know how highly respected and beloved he was of the people he represented".
"He was the more acceptable face of the Thatcher government," says the Colchester (Liberal Democrat) MP, Sir Bob Russell.
"Tony Newton was a decent man, he was always generous and supportive".
Lord Newton's whole life was dominated by politics.
After studying PPE at Oxford, where he was also president of the Oxford Union Society, he worked with the Conservative research department throughout the 60s.
After unsuccessfully contesting Sheffield Brightside, he became MP for Braintree in 1974.
Political career
It wasn't long before Tony Newton's career took off: he became a government whip in 1979, Margaret Thatcher then made him a health minister, a trade and industry minister and then Secretary of State for Social Security.
Under John Major he became leader of the Commons, a job he held until he lost his seat in the Labour landslide of 1997.
"I saw him as the vanguard of progressive Conservatism at Oxford," says Sir Alan Haselhurst.
"When you heard him speak you felt you were listening to someone from your generation who was speaking about the values of the Conservative party which you could engage with.
"He was utterly genuine in his dealings with you, he was interested in what you had to say. I think all that encountered him found him a good bloke."
"I've seen members of parliament who can be Jekyll and Hyde when they become ministers but not Tony Newton," says Sir Bob Russell.
"What you saw was what you got, with him," says Bob Russell.
"He was just a normal person, there were no airs and graces, no pretence," says Graham Butland, the Conservative leader of Braintree Council and a long time friend.
"He was just Tony and he was always keen to help people if he possibly could."
Public service
As Baron Newton of Braintree he still played a leading role in public life, often speaking in the Lords.
He took part in the standing conference on drug abuse and he chaired the enquiry into the Buncefield oil depot explosion in Hertfordshire.
He also sat on the boards of several local mental health trusts and was first Chairman and then President of the East Anglian Childrens' Hospice
"He was a very caring person and if you look at the areas in which he devoted his life in later years that sums him up well," says Mr Butland.
One of his last appearances in the Lords was when Lord Newton spoke against aspects of the government's Welfare Bill, while evidently slightly out of breath and aided by the occasional puff of oxygen.
It was a testament to a man who dedicated his life to public service, right until the end.