Lion's move from Devon to Newquay Zoo a roaring success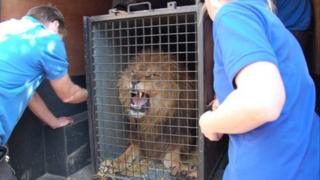 A lion from a Devon wildlife park has been moved to Cornwall to become a companion for a lioness.
Samson, a five-year-old African lion, was transported from Combe Martin Wildlife Park to Newquay Zoo, a road journey of about 90 miles (145km).
Lioness Connie, 15, was left bereft by the death of her brother, Charlie, 14, three weeks ago, zoo staff said.
Staff added that it was also hoped Samson would benefit because his Devon pride had rejected him.
Newquay Zoo said that Connie's brother was put to sleep on the advice of a vet, as he had a heart condition and other complications.
'Very proud'
Samson has also been by himself for eight months, as the dominant male in his pride in Devon had taken a dislike to him.
Staff said that Connie had been unhappy on her own and that they were glad to have found Samson to keep her company.
Eight people helped move the crate out of the van he was transported in at about 14:00 BST.
Zoo Director Stuart Muir said: "They are the only lions in Cornwall, so we're very proud of them."
The zoo said it was not likely that the pair would breed because of Connie's age.
But Mr Muir added: "We were anxious to get a new companion for her."