James Kouzaris and James Cooper world away from killer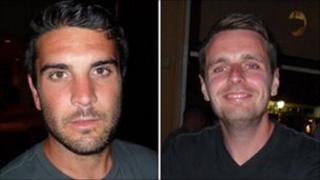 Their lives were a world away from that of their killer.
James Kouzaris and James Cooper were university graduates and successful sports players at the start of promising careers.
Shawn Tyson was a high school dropout who had been in trouble with the law and at 16 had a son of his own.
If the friends had not walked through the wrong part of town it is unlikely Tyson would ever have come into contact with the British tourists.
'Wonderful son'
Tennis coach Mr Cooper, from Hampton Lucy, near Warwick, and town planner Mr Kouzaris, from Northampton, met at Sheffield University.
They were on holiday with Mr Cooper's parents in upmarket Longboat Key, about 12 miles from the murder scene.
A favourite escape for celebrities and golf and tennis players, Longboat Key is a far cry from the rundown area of Sarasota where the young men found themselves.
Mr Kouzaris, a successful amateur rugby player, was described by his parents previously as a "wonderful son".
He attended Northampton School for Boys, where he was captain of the rugby team, and also captained a team at the Old Northamptonians Rugby Club from the age of about nine until he went to university.
After a four-year town planning degree at Sheffield, Mr Kouzaris worked for Northamptonshire County Council as part of a team setting up a programme to provide healthy food for schools.
The council's chief executive Paul Blantern said: "He was a very popular and effective colleague, and will be missed by all who knew him at the council."
Childhood friend Eve Mason spoke to Mr Kouzaris the day before he left for Miami.
She summed him up as "a real good example of a young man".
Mr Cooper studied at the management school at Sheffield before becoming a full-time tennis coach for Warwick University-based company inspire2coach.
He had just been promoted to a head coach position and was due to start his new role after returning from holiday.
After his death, his parents Stanley and Sandra Cooper said: "He was gentle, kind, compassionate, clever and an athlete; but beyond all his achievements he was full of love.
"His laugh, his voice, his humour filled every space. In his short life he lived it to the full and helped everyone lucky enough to know him to do the same."
The 25-year-old represented Warwickshire at tennis and once played Andy Murray in a junior tournament.
Tyson was also a keen sportsman although he failed to live up to his potential.
His mother Kenyatta Whitfield, a single mother of four, said he excelled in sport, playing American football, and could have been one of the best players in the area.
But everything changed when he dropped out of school and started to hang around with older friends.
He was often seen with a gun and on his 16th birthday got the world "savage" tattooed across his chest.
The day before the murder his mother had picked him up from jail where he had been since his arrest on 7 April for shooting at a car.
She said when she collected him they had talked about what he planned to do.
"I got him out of that courtroom on 15 April and me and Shawn sat there in that parking lot and we talked," she said.
"We knew the things we had to do. He knew what he had to do.
"His father has always been in his life but he could have participated a bit more. Shawn wanted to be in his son's life."
But as he begins a life behind bars it is unlikely Tyson will see much of his son.
For Captain Paul Sutton, from Sarasota Police Department, Tyson's situation is all too common.
He said: "Certainly there is a correlation between a lack of education and the likelihood of being involved in crime.
"I think having the support of your family, having an education which offers you additional opportunities, makes it less likely that you will be involved in crime."