Shawn Tyson murder trial: 'Case built on deals and lies'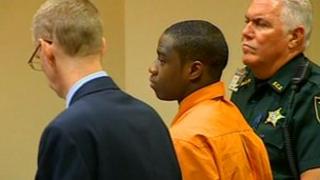 The case against a teenager accused of murdering two British tourists in Florida is based on "threats, deals and lies," his defence lawyer said.
Shawn Tyson, 17, is accused of shooting dead James Cooper, 25, from Warwickshire, and James Kouzaris, 24, from Northampton, last April.
Mr Tyson's defence lawyer said police had confirmed many witnesses had lied.
Prosecutors said Mr Tyson had confessed to friends and was linked to the crime by DNA samples. The jury has retired.
'Offers for cash'
In her closing argument on Wednesday, defence lawyer Carolyn Schlemmer reminded the court of difficult conversations between investigators, prosecutors and witnesses.
She said: "That is what this case is all about - threats, deals, benefits, moving services, getting-out-of-jail-free cards, rewards, offers for cash, bargains, elimination of prison sentences totally, and lies."
Det John Todd, from Sarasota police, told the court that many witnesses had originally lied to police, she said.
"A not-guilty verdict in no way is going to lessen what happened to Mr Kouzaris and Mr Cooper that day," she added.
She told the jury that several witnesses in the case were themselves convicted criminals.
Mr Tyson has pleaded not guilty but declined to give any evidence during the trial.
Prosecutor Ed Brodsky told the jury that it was a case of opportunism.
He said Mr Tyson had spotted the Sheffield University friends wandering around his neighbourhood drunk and had tried to rob them.
When he discovered they had very little cash on them he shot them, the prosecutor said.
Mr Tyson's DNA was found on Mr Cooper's jeans in four places, forensic experts said.
In addition Mr Brodsky said the accused had lied to police about his whereabouts at the time of the shooting.
Mr Tyson told police he had been at home on the night of the shooting, but the prosecution presented witnesses who said they had seen him climbing into his bedroom window shortly after they heard shots being fired.
In his closing speech, Mr Brodsky turned to the defendant and asked why he would lie.
He said: "Why? Because you are responsible, that's why."
Tennis coach Mr Cooper, from Hampton Lucy, near Warwick, and town planner Mr Kouzaris had been on holiday with Mr Cooper's parents in Longboat Key, about 12 miles from the spot where their bodies were found.