Bid for EU funds for A14 trunk road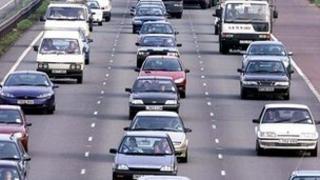 Politicians from Northamptonshire are taking the lead in a bid to win funding for improvements to the A14 trunk road.
The group was in Brussels to lobby for EU money for sections in the county and for Suffolk, Cambridgeshire, Leicestershire and Warwickshire.
The group will bid for money from a pot of around 500m euros in the autumn.
Members of the Northamptonshire County Council's cabinet and Kettering Borough Council were talking to civil servants from the Transport Directorate.
The A14 is seen in Europe as a major route for getting goods into the Midlands and the North of the UK.
The group is looking to bid for the money under the Trans-European Transport Network (TEN-T) programme, which is one of Europe's most important means of infrastructure funding.
Jim Harker, leader of Northampton County Council, said: "We have agreed to work with our colleagues in Suffolk, Cambridgeshire, Leicestershire and Warwickshire to put together a business case which will allow us to bid for the money."
The work to improve the dual carriageway has been split up into three phases.
Accidents and problems
The first is to improve the communication on the road with cameras providing information about traffic jams and the state of the road.
The second is to build better truck stops, that are safe and secure making sure that lorries are not just clogging up all the lay-bys.
In the long term money is needed to build a third lane and a hard shoulder for the whole of the 127 miles (204km) of the A14.
A conference was recently held in Kettering with councillors, The Department of Transport and haulage firms looking for priorities for the best way forward.
The group also met Gary Bridgeman, from the International Road Union, which is a lobby group representing the UK in Brussels.
"The A14 is one of the roads that has delays on or accidents and infrastructure problems so it has a chance of getting funding," he said.