Saltash Tunnel signs warn of average speed cameras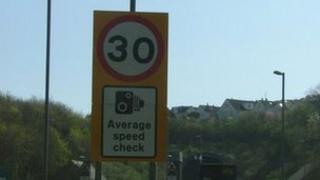 Signs have been put up on the A38 at the Saltash Tunnel in Cornwall to warn motorists that average speed cameras are in use.
The Highways Agency said the system had been working for some time, but that now it wanted to ensure drivers were completely aware of it.
The agency said there was no legal requirement for the signs.
About 40,000 drivers use the tunnel between Plymouth and Cornwall a day. It has a 30mph speed limit.