Baltic Turner Prize streaker Mark Roberts cleared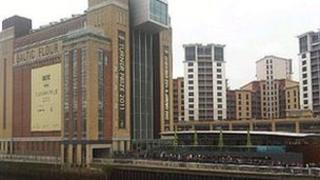 A man who gatecrashed the Turner Prize ceremony at Gateshead's Baltic gallery has been cleared of any crime.
Mark Roberts, 47, ran on stage naked except for a pink tutu, just as the winner's name was about to be announced, on 5 December.
The performance artist of Dewsbury Road, Anfield, Liverpool, had denied a charge of disorderly conduct likely to cause harassment, alarm or distress.
Magistrates in Gateshead found that no criminal offence had been committed.
Celebrity photographer Mario Testino was about to announce the prize when Mr Roberts tore off his velcro trousers to reveal a pink mesh tutu and ran on to the stage.
He was wrestled to the ground by security guards and removed.
'Male genitals'
James Johnson, head of building services for Baltic visual arts, said: "It was offensive, embarrassing and disgraceful. I myself was disgusted.
"I am a family man and I do not expect to have male genitals thrust upon my vision when I am at work."
Mr Roberts described his action as being in the spirit of the event.
Defending, Laurence Lee said: "This was the Turner awards, the most bizarre, outrageous, controversial awards ceremony in the world, and people were disgusted by male nudity?
"This was an incident which was, if you will forgive the pun, over with in a flash and which brightened up a miserable world.
"The audience was in stitches. They loved every minute of it."
Magistrates cleared Mr Roberts of any crime, but the chairman of the bench Ray Ashley added: "We do not condone your behaviour."