Osborne predicts boost from Humber Bridge lower tolls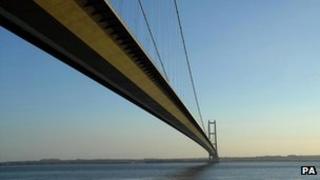 The Chancellor believes the Yorkshire and Humber economy will receive a £250 million boost from an increased number of motorists using the Humber Bridge.
Toll charges have been reduced from £3 to £1.50 each way for cars.
Motorcycle tolls have now been scrapped.
The lower tolls come as a result of the government writing down almost half the £330 million debt still outstanding on the Humber Bridge.
Toll impact
In an interview with BBC Look North, George Osborne said: "The evidence we have is that the cut in the tolls will boost the local economy by £250 million over the next generation.
"It is really good for jobs, people will be able to find work on the other side of the estuary if they haven't got it now."
In a poll commissioned by BBC Look North and carried out by GfK/NOP - 500 people were asked what impact the lower toll charges would have on the economy of East Yorkshire and Northern Lincolnshire:
95% believed lower toll charges would have a positive effect on the local community;
55% of regular bridge users said they would use the bridge more frequently;
53% believed that commuters would benefit most from lower tolls, compared with 17% who thought that leisure users would benefit most.
Economic benefits?
Humber Bridge users watched with envy as bridge tolls in Scotland were abolished four years ago.
However, opinion is divided over the economic benefits of lower tolls.
Professor Tom Rye from the Transport Research Institute at Edinburgh Napier University said: "I think the tolls will have a marginal impact.
"If you want to improve the economy of the area you have to look at the things that are the real constraints on the economy of that area, and they are unlikely to be bridge tolls."
It seems that most drivers welcome a cut in tolls after three decades of paying a high price for crossing the Humber.