Wife's diary of husband's battle for life after street attack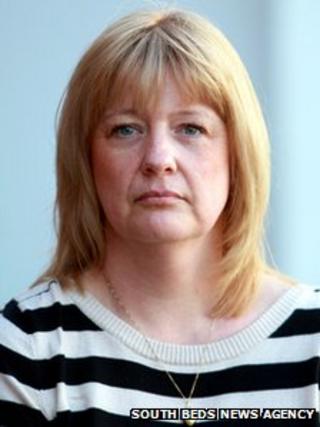 Trish Harrison's world was turned upside down when her husband suffered catastrophic head injuries on a night out in Bedfordshire.
Over the next eight days, she barely ate or slept as she desperately hoped for good news at his hospital bedside.
Kevin Harrison, 48, had joined their 18-year-old son Jack and a group of friends to celebrate a birthday at various bars and pubs in Bedford on 10 September 2011.
But the night ended in tragedy when he got into an argument with a group of young men standing outside a nightclub.
A single punch by father-of-one Ravi Sandhu, 24, of Kathie Road, Bedford, sent him tumbling to the ground. He was critically injured.
As she dashed between the family home in Raunds, Northamptonshire and the hospital in Bedford, Mrs Harrison, 45, used a diary to chronicle her husband's fight for life.
She scribbled down personal messages to her husband that she hoped he would one day be able to read.
The handwritten notes began on 11 September 2011, when she first saw him in hospital.
'A bit confused'
"I just froze, you had so many wires, tubes and machines attached to you," she wrote.
The pressure around Mr Harrison's brain was high because of the devastating injury he had suffered. Doctors put him into an induced coma.
A room was provided for Mrs Harrison to stay in at the hospital.
The next day, surgeons spoke to her about the scans and probes that were needed as part of the treatment.
"By this time I was getting a bit confused, so I told them that I would talk to them about the next step when or if it is needed," Mrs Harrison wrote.
On September 13, Mrs Harrison made a witness statement to a police officer at the hospital but "had to take a break as it just got too much".
She was in tears as she penned the next day's diary entry.
"I want you so much and I miss not being able to talk to you," she wrote.
"I'm so desperate for you to put your arms around me and say: 'Stop crying, it's going to be ok'."
On 15 September, surgeons broke the news that Mr Harrison had a blood clot on his brain and was in a critical condition.
"Feeling a bit shocked at the moment, it's a horrible feeling knowing your life is in their hands," Mrs Harrison wrote.
As her husband was operated on, she pleaded: "Come on Kev, hurry up, I don't know how much more I can take."
Her last entry that day read: "I'm going to try to get some sleep. I keep feeling sick. Anyway nite nite (sic), I love you and see you in the morning. Let's hope it is a good night xxx."
Although Mrs Harrison was hungry, when food was put in front of her she felt sick.
On 16 September, she received more devastating news and immediately penned another emotional note to her husband.
She wrote: "If you do pull through, there is a very good chance you will have some form of brain damage. They asked me what would you want to do.
"I want to keep you fighting, but I totally understand if you don't. A little sign wouldn't go amiss."
The next day, she added: "The staff won't give up on you, but I feel your are slipping away through my fingers and I don't know what to do.
"All I want is to be in your arms and for you to hold me so tight and never let me go. I love you so much.
"I went and sat with you for a while but it is getting harder and harder, seeing you like this."
In the early hours of 18 September, Mrs Harrison was woken by a phone call saying her husband's condition had deteriorated.
By the time she arrived at hospital, he had died.
She wrote: "As soon as they had put the phone down to me your heart just stopped. At that moment in time my whole world came crashing down around me."
He had been in hospital for eight days.
The final diary entry read: "I am so proud of you. You tried so so hard to stay with us. God, my whole body aches with despair. What am I going to do without you."