Anglers' bid to save Cemex quarry fishing lakes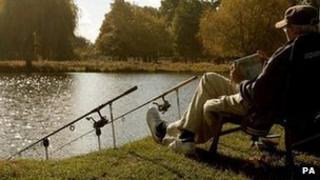 Anglers across England are being urged to work together to buy dozens of lakes that have been put up for sale.
Aggregates firm Cemex last month pledged to sell its angling business which includes more than 70 lakes.
The majority of the sites, which are former gravel pits, are in Berkshire, Bedfordshire, Essex, Hampshire, Kent, Surrey and West Sussex.
The Angling Trust is urging its member clubs to work together on a bid to the agents handling the sale.
'Big worry'
Trust spokesman and former Reading MP Martin Salter said: "It won't mean a lot to people who are not anglers but to a lot of people these waters have become a second home.
"We are encouraging our member clubs to make bids to the agents to ensure we can do everything we can to see angling remains at these waters.
"There is a concern that if a small angling club puts in a bid for one site and a large consortium bids for a number of sites, the local angling clubs could lose out.
"If we get angling clubs to work together, their bids could be viewed more favourably."
Mr Salter, who began fishing at lakes at Longfield, Theale and Burghfield in Berkshire, said: "These are places where people will go and spend a whole weekend fishing.
"The big worry for us is that this could be broken up and, although they are designated for recreational use, that doesn't necessarily have to be fishing.
"If a new owner came along who did not think that fishing was the best use then we could lose some waters."
A Cemex UK spokesman said: "A difficult decision has been made to put Cemex Angling up for sale.
"As part of the regular and on-going business reviews, we have decided that angling is not core to our operations and in the current economic climate we have limited resources and capital to develop the business in the future."
The company said it would honour existing tickets and would be selling tickets for the season ending in March 2013. Deposits for waiting lists would be refunded.