Ravi Sandhu guilty of Kevin Harrison 'single punch' death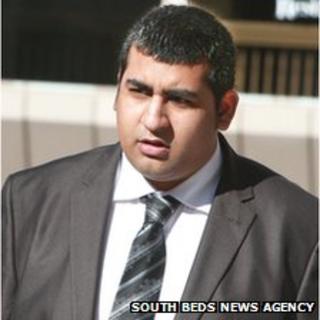 A man has been jailed for five years after being found guilty of killing a "harmless" father with a single punch.
Kevin Harrison, 48, of Raunds, Northamptonshire, died after lapsing into a coma.
Father-of-one Ravi Sandhu, 24, of Kathie Road, Bedford, punched Mr Harrison outside a nightclub in Bedford in September last year.
Jailing Sandhu at Luton Crown Court, Judge Richard Foster said Mr Harrison was "no threat to anyone".
The court heard Mr Harrison was speaking to his wife on his mobile phone when he accidentally knocked into one of Sandhu's cousins in the early hours of 11 September.
The incident was captured on CCTV and showed members of Sandhu's group surrounding Mr Harrison, who was waving his arms.
A police officer stepped in and ushered Sandhu and his group on their way.
They walked around the corner into nearby St Paul's Square, where they stood by a bus stop.
Moments later, Mr Harrison - still on his phone - walked into the square and there was a second confrontation.
'Completely harmless'
Without warning, Sandhu lashed out, throwing a punch at Mr Harrison, who was standing on the kerb.
He was hit in the mouth, but he fell heavily into the road and suffered a severe brain injury from which he never recovered.
Judge Foster said: "What is clear to me is that Kevin Harrison was a 48-year-old harmless man, who was very drunk. He was no threat to anyone apart from perhaps himself."
The judge said there had been no aggressiveness or maliciousness in the first incident outside the nightclub in which Mr Harrison had apparently bumped into a member of Sandhu's group.
But he told Sandhu his reaction to it had been to see it as some sort of "breach of honour".
The judge said that when Mr Harrison walked into St Paul's Square, he had been "completely harmless and on the phone to his wife".
Mr Harrison, a panel beater, died on 18 September from catastrophic head injuries.
Sandhu was found guilty of manslaughter following a week-long trial.
Judge Foster paid tribute to his wife of eight years, Trish, saying she had shown "dignity" giving evidence.
Outside court, Mrs Harrison, a chemist shop worker, said: "One totally mindless action has totally destroyed our lives and taken an absolutely remarkable person from us. Our lives will never be the same."
She added: "Too much of this one-punch crime is happening and needs to stop. People need to be made aware that a fist can be just as dangerous to a person as a gun or knife."