Domestic violence victims 'lie about course'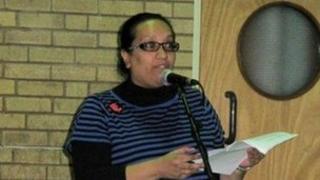 A course which aims to empower women who are in violent relationships claims they will often have to lie to partners about where they are going when they attend.
One of the problems facing the national Freedom Programme is the safety of women and how they can turn up at a three-month course without their partners knowing.
Social worker Shahida Choudhury, who introduced the scheme in Birmingham and now trains other women to deliver the course, said the venue for the initiative is never publicly advertised.
She said: "Often women will say they are attending an English as a second language class, or if they have children, they may say they're attending a local community venue because there's a playgroup."
Laila Khan, 56, from Sparkbrook, Birmingham, left her violent partner 20 years ago after years of abuse and recently completed the Freedom Programme.
Emotional support
She said: "I got into a situation where I lived with a guy for 15 years and he was extremely violent, both physically and mentally. I had no freedom.
"If I went shopping, I had a certain amount of time, otherwise I would get beaten up.
"I had to wait until he was in prison before I could escape from him, because I do believe he would have killed me in the end."
Miss Khan said she believed if the scheme had been around 25 years ago, she "wouldn't have put up with it for so long".
She added: "I would have been able to read where the problem was. There would have been more practical and emotional support and it would have made me realise that I was the victim, and not the perpetrator."
Ms Choudhury said the Freedom Programme, for women who are in or have been in violent relationships, "never, ever" advocates that they leave.
She added: "One of the key reasons is because we know that when women do decide to leave, this is often the most dangerous time for them and their children.
"The programme itself allows women to start thinking about the abuse that they've suffered, but ultimately how they can take their life forward in a positive way.
"It's focused around changing women's mindsets and allowing women to make informed choices for themselves."
Mental scars
The social worker said the success of the programme speaks for itself.
She added: "We've had women who will come along to the first session who will shake, won't give you eye contact.
"Several sessions in, they are far more confident and it ultimately gives them the skills that they need to keep themselves, and their children, safe."
For Miss Khan, it has finally made her come to terms with what happened to her all those years ago - and "the fact that it wasn't my fault".
She said: "I believe that the physical scars heal, but the mental scars never ever go away.
"It was someone that wanted to intimidate, control, beat and just ruin every aspect of my life. It took me a long time to realise that, so it did help me a lot.
"I think for a lot of women, when they come out of violent relationships, they haven't totally dealt with what's happened, and something like the Freedom Programme helps them to come to terms with what happened and it gives them a bit of closure."