Surrey NHS books extra A&E staff for Easter DIY injuries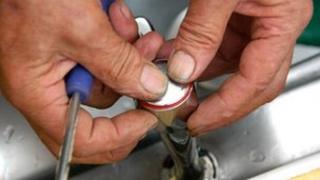 Extra A&E staff were brought in at hospitals in Surrey and south London to deal with an expected rise in casualties during Easter weekend.
Epsom and St Helier NHS, which runs Epsom Hospital in Surrey and St Helier in London, said A&E admissions rose by 21% last year on the day after Easter.
The trust said the bank holiday weekend was a popular time for gardening and DIY but could end in a hospital trip.
People using tools are urged to ensure they know how to stay safe.
'Plan ahead'
Dr Carole Ann Johnson, lead doctor for A&E, said: "We all understand what it's like. This is the first long weekend of the year and lots of people want to get going with their home improvements, gardening and spring cleaning.
"Unfortunately, a lot of DIY and gardening requires the use of tools which, when not used properly, can end in disaster.
"We would like to ask everyone who's planning work like this to make sure you're fully prepared and know how to stay safe.
"Whether you're going to be climbing a ladder or pruning the roses, please be careful."
People are advised only to tackle jobs if they have the ability, disconnect electrical appliances before working on them, keep children and pets away when carrying out DIY, and take extra care with sharp cutting tools.