Anthony Grainger shooting: Policeman faces criminal probe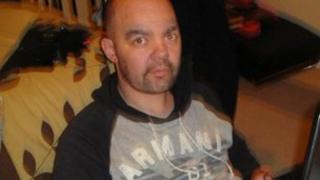 A firearms officer who shot dead a man in a village car park is to be the subject of a criminal investigation, the police watchdog has said.
Anthony Grainger, 36, died from a single gunshot wound to the chest in Culcheth, Cheshire, on 3 March.
The Independent Police Complaints Commission (IPCC) said the Greater Manchester Police (GMP) officer would be "criminally interviewed".
It has previously said no firearms or weapons were found on Mr Grainger.
In a statement, the IPCC said it served a formal notice of investigation on a GMP firearms officer on Monday.
'Stolen car'
It added: "A notice has been served on the officer who fired the fatal shot to explain that his actions are under investigation.
"He has been advised that he will be criminally interviewed in due course."
So far the IPCC has established that Mr Grainger was shot in the driver's seat of a stolen red Audi with false registration plates.
GMP officers shot the car's tyres twice and threw a CS canister into the vehicle.
The fatal shot was one round fired by an officer carrying a Heckler and Koch MP5 carbine which pierced the windscreen and hit Mr Grainger.