Sister of 'ageing' girl Hayley Okines, 14, to run 10 marathons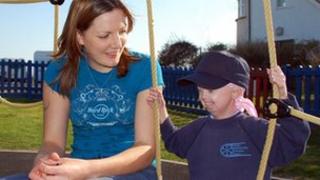 The sister of a 14-year-old girl with a rare ageing condition is setting out to run 10 marathons in 10 days.
Hayley Okines, from Bexhill, East Sussex has progeria, which means she ages eight times faster than normal and has the body of a 100-year-old woman.
Her sister Charlotte is running with her friend Becky Reid. The marathons, in aid of Progeria Family Circle, start in Yorkshire and finish in Kent.
"We are feeling good, but a little nervous," said 26-year-old Ms Okines.
"We woke up to see the sun was out. Yesterday it was snowing."
Ms Okines and Ms Reid are being joined for the first six miles (10km) by John Crowther, father of fellow progeria sufferer, 13-year-old Harry Crowther.
'Determined to finish'
The runners set out from the Crowthers' home in Mirfield, West Yorkshire, with Hayley and Harry there to cheer them on.
"Hayley is very excited," said Ms Okines. "Harry didn't know she was coming with us so it was a great surprise for him."
Ms Okines and Ms Reid have been training for a year for the event, and have raised £3,000 so far.
"We are not really setting ourselves a time target for each day because we don't know how we will feel by day three or four," she said.
"So, if we end up taking six or seven hours we won't really mind.
"We have been planning this for so long we are determined we will finish."
Hayley is one of only 83 people in the world known to have progeria, which was diagnosed just before her second birthday.
The condition causes problems normally found in the elderly such as arthritis and heart disease.
Hayley was predicted a life expectancy of 13 but has been receiving pioneering treatment in Boston, USA for four years.
She has been unable to attend school since last year because of dislocated hips but hopes to return gradually.
Progeria Family Circle is a European patient network which supports children with progeria and their families.