Hundreds of homes still without power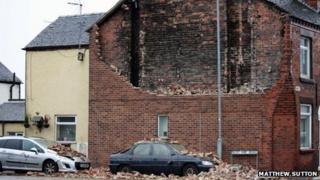 Hundreds of homes are still without power for a third day after gales and ice brought down power lines.
Northern Powergrid said 1,200 customers in North Yorkshire remained without power, but all affected homes in County Durham had now been reconnected.
It hopes to restore power to a further 800 homes by the end of Thursday, but some people could face a third night without electricity.
Some customers have complained that they were not given enough information.
The company blamed strong winds and blizzards for bringing down overhead power lines in the North East on Tuesday.
'Deafening silence'
A statement from the power firm said: "Engineers are on site throughout the areas and the spotter helicopter is being deployed once again to help locate the damaged overhead power lines.
"We would like to apologise to those customers still experiencing power supply problems and to reassure them our engineers are working as hard as possible to restore supplies as soon as possible."
Northern Powergrid said it would make contact with customers who qualified for compensation over the loss of power.
Nigel Wilson, of Westerdale, North Yorkshire, has been without electricity for more than 30 hours.
He said: "I'd like to speak with the managing director of Northern Powergrid but I can't even get through to anyone on the telephone. I've been on the line for five minutes and then it just hangs up.
"Westerdale is remote and has several very elderly residents in their 80s and 90s with only coal fires to provide heat and cooking.
"I have not been able to get in contact with any representatives of the power company to get information as to what is happening.
"Neither, as far as I can tell, do they have any system to receive information as to local conditions. At present the silence is deafening."
'Actual human'
David Metcalf, who lives in Wallridge village near Belsay, in Northumberland, was without power for 21 hours.
He said he was frustrated by the power firm's recorded messages when he tried to find out when electricity would be restored.
"I phoned the electricity company a couple of times and all we got was automated messages. Then it was a 15-minute wait to speak to an actual person," he said.
"Hopefully with this bad weather, if it happens again and we ring, we will get through to an actual person and get a straight answer from a human about when the power is going to be back on, and hopefully it won't be as long."
At one stage on Wednesday morning, some 50,000 homes and businesses in the North East and Derbyshire were without electricity.
Mr Barnet, of the power firm, said: "It was a combination of wind speed, zero degree temperatures and the snow and ice that came through the region.
"That combination of weather formed ice on the power lines and the weight brought a number down. That's exactly what happened, we know where they are down and we are trying to fix them."
In Nottinghamshire and Derbyshire 9,000 properties had been reconnected, Western Power said.
Some 12,000 homes and businesses in Whitby, North Yorkshire, also lost power, but were restored on Wednesday.
The wintry weather also caused problems for motorists when up to 20cm (8in) of snow fell on high ground.
Drivers were stranded as snow drifts of up to 7ft were reported, closing a number of roads in the North East and in the Pennines.