East Midlands-based Syrian doctor aids beleaguered colleagues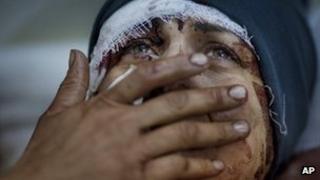 A Leicester-based Syrian doctor has been using email and online video to help doctors treating victims of the fighting in the country.
As a volunteer with Hand in Hand for Syria, based in the East Midlands, he cannot be named for fear of reprisals.
He said the charity was continuing to collect donations "in the UK to buy medical aid" for the people of Syria.
The country's government said it will end military operations from Thursday morning.
Hand in Hand for Syria said it was important to continue providing humanitarian aid where possible for refugees whose access to medical and food supplies has been disrupted by the fighting.
The doctor said he has been trying to share his knowledge of medical treatments in an attempt to help Syrian doctors who may be coming up against certain types of injuries for the first time.
"We have also been liaising with medical teams working in makeshift hospitals," he said.
The aim was to provide "doctors with medical care advice for the injured and trying to send them supplies and any medical equipment", he added.
The country's borders have been closed to international food and healthcare aid, preventing hundreds of Syrian and foreign activists from entering the country to deliver supplies.
The United Nations estimates more than 9,000 people have so far been killed in the uprising which began in March last year.
UN-Arab League envoy Kofi Annan said he was hopeful that if all sides respected the suspension of hostilities under his six-point plan, "I think by six in the morning on Thursday we shall see improved conditions on the ground".