Galloway's Respect could be Bradford power brokers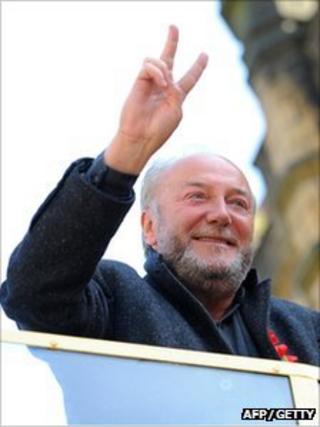 Respect has launched a local election campaign which falls a good way short of the overwhelming "Bradford Spring" offensive promised by the party's new MP, George Galloway.
Yet, in a city where Labour rules the local council as the biggest party but is unable to command an outright majority, Respect could have a chance of finishing up holding the balance of power.
Labour is just one seat short of overall control of the 90 seat council and has relied on the support of Bradford's three Greens to stay in power until now.
The full list of nominations reveals that Respect will be contesting just 12 of the 30 seats up for election in Bradford.
All of them, including Labour leader Ian Greenwood's own seat, are in the kind of inner city wards where George Galloway's campaign struck a chord at the recent parliamentary by-election.
Bradford, like all the Yorkshire councils holding polls on 3 May, uses a system of "elected by thirds".
That means just one of the three council seats in every ward is contested every election year.
Incredible turnaround
The political balance is so delicate in Bradford that even a few seats taken by Respect from Labour could be enough to see it become the city's power broker.
This would be an incredible turnaround for a party that did not have the strength to put up any candidates at all in the 2011 elections.
Until Respect entered the contest in Bradford, Labour had hoped to nudge itself over the finishing line and achieve a majority by retaining all its own seats and taking some from the Conservatives and Liberal Democrats.
Promises from Respect leaders that the "Galloway effect" which destroyed the other main parties at the Bradford West by-election would also send shock waves through neighbouring West Yorkshire councils have come to nothing.
Respect will not be fielding a single candidate in West Yorkshire outside Bradford.
Severely squeezed
That means the fortunes of Liberal Democrats will be the main focus of attention in the two other West Yorkshire councils where no party has an outright majority.
In Huddersfield-based Kirklees and next door neighbour Calderdale Council in Halifax, Liberal Democrat councillors are ignoring Nick Clegg's lead at a national level and co-operating with Labour to keep out the Conservatives.
Both these alliances could be severely squeezed if the Liberal Democrat collapse at the ballot box since the 2010 General Election continues.
In Calderdale the Conservatives are the largest party but are outvoted by a Labour and Liberal Democrat coalition which jointly runs the council.
Labour has the most councillors in Kirklees but musters a majority, and control of the council, with the help of the Liberal Democrats.
Clean sweep
In the other West Yorkshire councils of Leeds and Wakefield Labour is already in the driving seat and is expected to increase its majorities.
In South Yorkshire few expect any upset.
Labour has a clean sweep of control in the councils for Barnsley, Rotherham and Sheffield.
Neighbouring Doncaster is run by Yorkshire's only executive mayor who is not up for re-election this year.
Labour overwhelmingly dominates Doncaster's council chamber where a third of the seats are being contested.
Candidates lists
The list of candidates across Yorkshire and the north Midlands can be found below: