Head teacher Simon Graydon to run 10 marathons for RNLI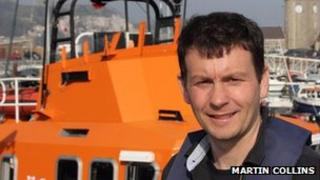 A Kent head teacher is running the equivalent distance of nine marathons in five days across two counties before taking on the London Marathon.
Simon Graydon, 40, who works at the Learning Opportunities School, in Ringwould, is raising funds for the Royal National Lifeboat Institution.
He set off from Gravesend on Wednesday to run to Brighton, and will stop at 12 lifeboat stations along the way.
He will run the Brighton Marathon on Sunday and the London one a week later.
Experienced runner
Describing his reasons for supporting the RNLI, Mr Graydon, from Walmer, said: "Living by the coast it was a natural choice to raise funds for the RNLI as they provide a lifeline for the many local people who work and play on the sea.
"I am giving up a week of my time but the volunteer crew members give up so much more."
He is an accomplished endurance runner having already run several ultra marathons.
Mr Graydon said his current challenge would be the most miles he had run in the shortest time.