Four jailed for manslaughter of Julian Gardner in farm raid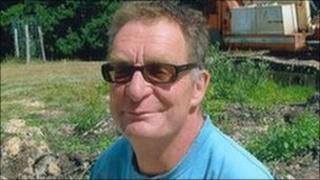 Four men have been jailed for the manslaughter of a businessman during a burglary in East Sussex in 2010.
Julian Gardner, 53, was crushed between two vehicles or one vehicle and a water bowser at his farm near Robertsbridge.
Brothers Terrence Bristow, 42, and Marcus Bristow, 32, both of Great Chart, in Kent, were each jailed at Lewes Crown Court for 11 years.
Lee Delay, 23, from Tunbridge Wells, and Paul Dunn, 33, from Cranbrook, were jailed for seven years each.
The four men and two others were also convicted of conspiracy to commit burglary and, with a seventh man, of conspiracy to pervert the course of justice.
The court heard Mr Gardner set off with one of his shotguns to confront the burglars after he was woken by a noise at Bush Barn Farm on 11 October 2010.
'No remorse'
Sentencing them on Wednesday, Judge Anthony Scott-Gall told Marcus Bristow, of Mock Lane, Great Chart, and Terrence Bristow, of Chart Road, Great Chart, they had been the prime movers in the burglary.
"Neither of you has shown a flicker of remorse. This sentence is a deterrent to others planning to commit this sort of crime in rural Sussex," he said.
The court was told that Terrence Bristow had 34 convictions for dishonesty, theft, violence and drugs, dating back to 1981, and that he had been on licence when he committed the burglary.
His brother, Marcus, had also served time in prison for burglary.
The pair, along with Lee Delay, 23, of Whitegate Close, Tunbridge Wells, and Paul Dunn, 33, of Fryth Crescent, Cranbrook, were found guilty of manslaughter on Tuesday following a seven-week trial.
Oliver Payne, of Sandhurst Road, Tunbridge Wells, was found not guilty of manslaughter and the jury was discharged after failing to reach a manslaughter verdict on Christopher Leek, 30, of Pear Tree Close, Cranbrook.
All six men were found guilty of conspiracy to commit burglary and, along with Terrence Dunn, 57, of Tanyards Estate, Sandhurst, Kent, of conspiracy to pervert the course of justice.
Leek was sentenced to four-and-a-half years' imprisonment, Payne to three and Terrence Dunn to 18 months.
'Robbed of life'
In a statement following the sentencing, Mr Gardner's mother, Molly Gardner, and sister, Anna Murphy, said: "All those present that night bear responsibility and must live with Julian's death on their conscience forever.
"Our Julian was above all a good and decent man who worked hard all his life.
"Before he had the opportunity to sit back and enjoy the results of his lifetime's work, these men who have been convicted felt they had the right to steal all that Julian had worked for but succeeded only in robbing him of his life.
"All those that loved Julian are united in the grief we feel at the loss of this special son, brother, father and friend."
Det Ch Insp Nick May, from the Surrey and Sussex Major Crime Team, added that it had been a "challenging and complex" investigation.
He said it had largely centred on DNA evidence in the case of Terrence Bristow and mobile phone information which put the men in the right area at the right time.