South coast offshore wind farm 'too close to the coast'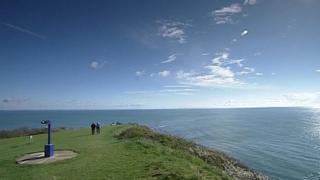 A campaign group fighting plans for a 76 sq-mile (200-sq-km) wind farm off Dorset, Hampshire and the Isle of Wight says it would be too near the coast.
Navitus Bay will have up to 240 wind turbines located 8.2 miles (13.2km) off Peveril Point at Swanage and 8.4 miles (13.5km) south-west of The Needles.
Challenge Navitus says it is worried about the impact on the environment, shipping and the economy.
Eneco, the firm with the licence for it, said no decisions had been made.
It said it could not yet say how many turbines there will be or how tall they will be, as the consultation was still continuing.
Challenge Navitus has urged people to lodge their objections before that closes on 17 April.
'Unspoilt landscape'
Andrew Langley, from Challenge Navitus, said: "We have two areas of outstanding natural beauty and the World Heritage site [Jurassic Coast] and they are within 8 miles of the development area, which is very close.
"[It would] change the character of the landscape.
"At the moment we have a fairly unspoilt landscape with very little urban development, a very natural landscape.
"This would just put a large industrial installation right in the middle of it.
"This area is unusually close to the coast and in an area of very high sensitivity."
Eneco said it was assessing what the impact on wildlife and the environment would be.
It is not expecting to submit a planning application until some time during 2013.
The wind farm would be built between 2016 and 2019, subject to planning permission.
The firm said the wind farm would have a potential yield of about 900MW to power between 600,000 and 800,000 homes a year.
Navitus Bay is one of nine UK sites earmarked for large offshore wind farms.
The holders of all nine licences have signed exclusive agreements with the Crown Estate, which owns the UK seabed.
The Isle of Wight licence covers 280 sq miles (725 sq km) but the firm is only developing part of the area.