Flybe criticised over Newquay-Edinburgh false alarm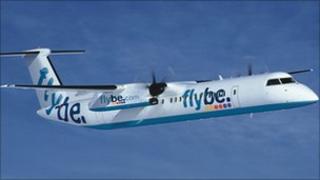 The actions of a Flybe crew reacting to a false emergency alarm "significantly degraded the operational capability" of the plane, a report has said.
The Air Accidents Investigation Branch said the Newquay-Edinburgh flight, made an emergency descent on 21 July.
The aircraft began to depressurize after a "spurious" smoke warning forced the crew to follow emergency protocol to remove smoke.
The airline said it had taken action to prevent similar incidents.
Delayed evacuation
The aircraft, with 47 passengers on board, was about 25 miles (40km) south west of Carlisle when a warning light indicated there was smoke on board.
The AAIB report said even though no smoke was found, the captain told the co-pilot to treat the situation "as real".
The resulting checklist of actions caused the aircraft to start depressurizing, the co-pilot's flight displays went blank and the pilot was forced to fly manually.
"Consequently the crew's workload increased, which would have made managing the overall situation more difficult," the report said.
When the plane landed safely at Edinburgh, the AAIB said the evacuation was delayed by some passengers collecting their belongings.
Of the four cabin doors used to evacuate the aircraft, only one had exit steps with the others having neither steps nor chutes.
The report added the "spurious smoke warning" was probably caused by a short circuit in the smoke detector connector.
Safety action has since been taken by the Devon-based airline to prevent a similar short circuit and "to ensure pilots received training with respect to aircraft evacuation that reflected company policy", the AAIB added.