Elected mayors need wider powers: Warwick Commission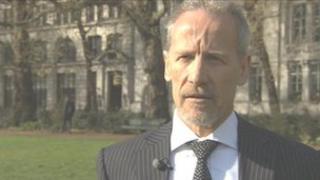 Elected mayors should have powers extending beyond city boundaries so they can "foster economic growth", a report suggests.
Ten cities hold referendums on 3 May on directly elected mayors.
The Warwick Commission said mayors with responsibility for "economic areas" spanning city boundaries - so-called "metro mayors" - were more likely to be effective.
It said there was not a "one-size fits all solution" for council leadership.
The commission was started by Warwick University last year to investigate the track records and experiences of elected mayors around the world.
Its study centred on the question: "What is the role of elected mayors in providing strategic leadership to cities?"
Voters in 10 cities - Birmingham, Coventry, Manchester, Leeds, Nottingham, Bradford, Sheffield, Newcastle, Bristol and Wakefield - will decide whether they want a directly-elected mayor on 3 May.
Those cities where a majority vote yes will hold elections later this year.
The report said: "There is no point in electing a mayor whose remit does not cover the necessarily boundary-spanning regions that could foster economic growth - the so-called metro mayor."
'Scrutiny needed'
Research director Prof Keith Grint said it could be a "two-stage process", with cities first deciding whether they wanted a mayor and then deciding what influence and power the role had.
He said the power of the mayor was an important issue for those on both sides of the argument.
The professor said giving mayors a direct mandate for the population and a four-year term should allow them to do things, but there had to be the right level of scrutiny to keep powers in check.
He added there was no "perfect political system" but for some cities it may be the right time for "thinking about a different system that may give you the impetus to do something different and do something about your local problems".
He said one "intriguing aspect" was that if some cities chose elected mayors, it may mean others would follow.
For example, he said if Birmingham had an elected mayor but Coventry did not: "Birmingham might begin changing significantly and move radically away from and faster than Coventry.
"If that is the case then Coventry will need to start thinking about doing something equivalent."
Voter 'apathy'
Warwick's research team interviewed 42 elected mayors and council staff in the UK, Canada, the US, Australia and New Zealand.
Prof Grint said an important aspect to consider was whether England's current political system "was good enough" considering the low turnout in local elections.
"We seem to have a very demobilized electorate. There seems to a general apathy amongst many people," he said.
He said researchers found evidence from interviewing elected mayors that "you can make a difference and you can engage the public in quite different ways".
"There is an argument that we should actually try something and this might be an experiment worth trying," he added.