Rupert Bowers: Shropshire funeral for Afghanistan blast victim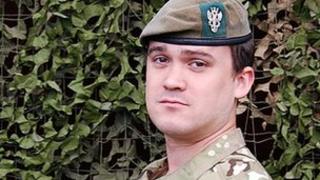 About 250 mourners have gathered in Shropshire for the funeral of a soldier killed in Afghanistan.
Wolverhampton-born Capt Rupert Bowers, 24, of 2nd Battalion The Mercian Regiment, was killed in a roadside bomb blast on 21 March.
The full military service was held at St Bartholomew's Church, Moreton Corbet, near Shawbury.
Capt Bowers, of Leicestershire, leaves wife Victoria, baby son Hugo, parents Patrick and Jane, and sister Juliet.
He was attached to 2nd Battalion, The Rifles, operating as an advisor to the Afghan National Army, when he was killed by a blast from an improvised explosive device.
The Reverend David Humphries, who led the hour-long service, said: "It was a full service which included tributes from his family and his regimental family, his fellow soldiers.
"People gave heartfelt tributes to Rupert. We prayed for his family and we prayed for those serving in Afghanistan."
He said the church was filled to capacity, with about 200 mourners inside and 50 more outside.
'A close bond'
Capt Bowers commanded a small team responsible for the training and development of the Afghan National Army in Helmand Province.
After studying at The Old Swinford Hospital and the Royal Military Academy Sandhurst, he joined 1st Battalion The Worcestershire and Sherwood Foresters Regiment in 2007.
He later joined his regiment in Afghanistan where his actions during an ambush resulted in him being mentioned in dispatches.
Commanding officer Lt Col Colin Marks called him the "bravest of the brave".
'Thoughtful man'
Lt Col Marks said: "A gifted officer, he excelled in the field and was happiest when leading men in battle.
"He died as he lived, leading from the front in the face of the enemy."
He would be remembered for his keen sense of humour and the close bond he formed with his men, his comrades said.
In a tribute released shortly after his death, Capt Bowers' family said: "Rupert was a kind, caring and thoughtful man who was selfless in his actions as a brave, courageous soldier.
"He was a devoted husband, son and father who leaves a wife that is proud to have known him and a sister and parents whose grief is immeasurable.
"He will be sorely missed and always in our thoughts."