Courting the youth: Who are England's youngest magistrates?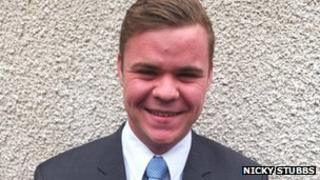 The toughest decision most people in their early 20s will have made is choosing which course to study at university.
But some make decisions that can determine the course of the rest of a person's life.
"I remember the family sitting at the back of the court crying and thought about how it would feel if it was me being taken to the cells," said 20-year-old Nicky Stubbs, currently England's youngest magistrate, about the first time he sent someone to prison.
Originally from Grimethorpe in Barnsley, he started sitting on the Barnsley bench in January last year.
Mr Stubbs, who is an English Literature student at the University of Lincoln, said: "These are real people's lives that are being dealt with and the needs of the defendant and the needs of the public do not always go hand in hand."
He admits he is still "quite shocked" by the idea that he is the country's youngest magistrate, but feels his age is "irrelevant to the role".
'Hit a nerve'
"You can't judge someone purely on their age. Coming from a different era, I have other experiences that can be relevant too," he said.
Despite his young age, Mr Stubbs is not the youngest magistrate ever in the country - that title belongs to the then 19-year-old Lucy Tate, who was appointed to the Pontefract bench in 2006.
Her appointment inspired Mr Stubbs and was one of the reasons he applied for the role, along with his connection to his home town.
He said: "Growing up in Barnsley and having the majority of my close family living here, I have strong affections towards the town and becoming a magistrate allows me to give something back to the community that I have grown to love."
Although, he is under no illusions about the difficulties a magistrate can face in the role.
"One case that particularly sticks in my mind was one where a young woman had been charged in relation to the neglect of dogs.
"The details of the case affected me emotionally, but the lady had not intentionally done this and was remorseful. Some cases, in my personal opinion, can sometimes hit a nerve," he said.
Nisha Kundra, 24, from Coventry, became a magistrate in 2007 because she "wanted the opportunity to represent youth, women and minority groups on the bench".
"I did not feel that my age was an issue. I also believe that the Lord Chancellor reduced the minimum age from 27 to 18 years because he felt that there was a need to introduce more younger people within the Magistracy," she said.
According to the Judiciary's figures in March 2011, of the 25,108 magistrates in England only 966 were under the age of 40.
Ms Kundra, a law student and business bank advisor, felt her position was a "lifetime commitment", but added that the role came with its unique set of challenges.
She said: "Some of the evidence we are shown can be quite disturbing sometimes. I have seen some horrific photographs from assaults."
Ms Kundra would recommend the role to her peers, even though it is a weighty responsibility.
"Imposing prison sentences can always be difficult, however, I think it is important to remember that custodial sentences are not just used as a form of punishment but also as a way to protect members of society.
"Our decisions not only affect the defendant but can also affect the victim, their family, the defendant's family and the community as a whole," she said.
"A prison sentence is always a last resort for the most serious or persistent offenders and not a decision that is taken lightly," said Adam Quigley, 24.
He said: "You do sometimes wonder whether you came to the right decision in a particular case but I think that's natural."
'Incredible honour'
Appointed in York in January 2008 before transferring to London, Mr Quigley highlighted one of the issues that he deals with regularly as a magistrate.
He said: "Knife crime remains a particular problem in south London and I feel magistrates play a critical part in doing all they can to stamp that out."
Mr Quigley, a management consultant, admitted that his friends and family did not anticipate his interest in the role.
"They were surprised but very supportive. I was sworn in at the age of 20 so it's not the usual thing for most 20-year-olds to want to do," he said.
John Fassenfelt, chairman of the Magistrates' Association, wants to see even more young people becoming involved, bringing different experiences to the bench.
He said: "A younger person will look at a case from a fresh viewpoint rather than an experienced older magistrate who has seen it all before."
Mr Quigley describes being one of the youngest magistrates in England as "an incredible honour", especially as it gives him the chance to learn about the variety of people who pass through the courts.
He said: "It's incredibly interesting and rewarding work; in a way I feel privileged to play my part. It offers a unique insight into the intricacies of human behaviour as well."