Gandhi artefacts sell for more than £100,000 in Ludlow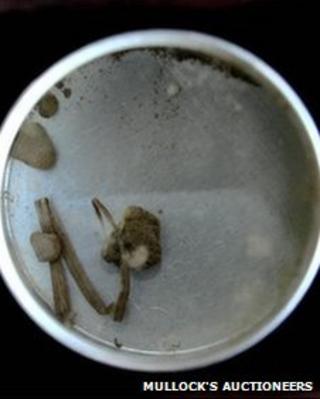 Soil and blades of grass from the scene of Mahatma Gandhi's assassination have sold for £10,000 at auction.
A drop of the Indian independence leader's blood was inside the wooden box used to store the soil and grass.
The lot was among rare pieces from India in a collection which fetched more than £100,000 at an auction held at Ludlow Racecourse in Shropshire.
A pair of Gandhi's glasses, bought from a Gloucester optician, had a guide price of £10,000 but sold for £34,000.
Gandhi, who studied in the UK, got the spectacles when he went to visit friends who were fellow members of the London Vegetarian Society, the auctioneers Mullock's said.
Kevin Bland, financial controller at Mullock's, said the telephone bidder who bought the spectacles also spent £26,500 on a wooden "charka", or spinning wheel, which Gandhi used to take on overseas trips.
'Most sacred relic'
The same bidder bought his prayer book for £10,500.
Ahead of the auction, Mullock's said there had been "enormous interest" from India in the collection which included artefacts regarded as sacred by Gandhi's followers.
Mr Bland said the charka was among items which exceeded their expected price.
"We are not surprised that the collection sold," he said. "We were confident because there was a lot of interest in the items, but it is always a pleasure, on behalf of the vendor, to exceed the guide prices."
Mr Bland said that once fees and VAT were added, the collection went for a total of £128,000.
He added that it was an exciting auction, where at one time five Mullock's employees were taking telephone bids from customers.
In a letter of provenance dated 24 September 1996, collector PP Nambiar said he received "the most sacred of all relics - a fraction of the pinch of soil I collected on 30 January 1948 from the spot where the father of our nation MK Gandhi fell to the bullets of his assassin".
Various letters written in English and Gujarati by Gandhi, as well as photographs of him visiting London at the Cabinet Ministers Conference in Delhi in 1946, also went under the hammer.