Sea Cadet unclipped harness to help friend before fall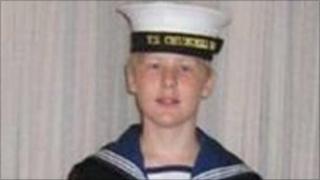 A sea cadet fell to his death from the rigging of a training ship after unclipping his harness to help another cadet, an inquest heard.
Jonathan Martin, 14, died after hitting the side of the TS Royalist and falling into the sea, off the Hampshire coast.
Jonathan, of Ashford, Kent, was airlifted to hospital but died later, Portsmouth Coroner's Court heard.
He had been taking part in events to mark 150 years of the Sea Cadets movement, in May 2010.
The inquest was told the ship had anchored at Stokes Bay around 20:00 BST, on 2 May, and Jonathan and a number of cadets had volunteered to go up the mast to bring the sails in.
'Very confident'
Jonathan, who had been a cadet for at least two years and was described as "very confident" working at heights, had first brought in the port-side topsail.
He then went down to the fore course yard, the lowest of the yards, and realised a female cadet at the end was having difficulties.
As he stepped around another cadet to help her, Jonathan slipped and fell from the yard.
Jonathan's father, Andrew Martin, told the hearing his son had been "very confident", having previously been on several Sea Cadet voyages, including once before on the Royalist.
He had discussed safety issues of being on the the yards with his son while he was showing him photos of the ship.
Mr Martin said: "I said that looked a bit dangerous, he said 'Don't worry, we are all clipped on with our harnesses'."
Describing his son, he added: "He was a very outgoing boy, sporty, he played for the school rugby team and all other types of sport at school."
The inquest continues.