Canon Gordon Rideout bailed after new abuse allegations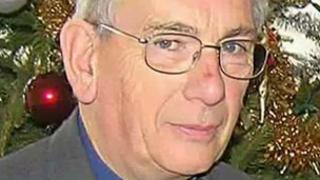 A retired Anglican priest who was rearrested over four fresh allegations of sexual assaults against young people has been bailed following questioning.
Canon Gordon Rideout, 73, from Eastbourne, was originally arrested and bailed in March on suspicion of abusing nine young people.
Sussex Police rearrested him on Monday over a further four alleged sexual assaults between 1965 and 1972.
The alleged assaults took place in Sussex, Hampshire and London.
Canon Rideout has been bailed again until 20 June, Sussex Police said.
Former parish priest Robert Coles, 70, from Eastbourne, was also arrested in March at his home in Eastbourne on suspicion of sexual assaults against three young men in West Sussex during the late 1970s and mid 1980s.
He was questioned again on Tuesday after answering police bail.
Sussex Police said he was interviewed on suspicion of two further assaults during the 2000s in East Sussex.
Mr Coles has been released on bail until 19 June pending further inquiries and consultation with the Crown Prosecution Service.