Democracy delayed by Friday counts in local elections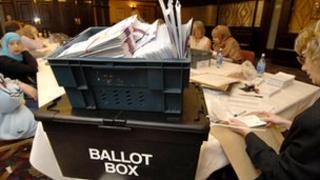 Spot the odd word out from "razzmatazz", "excitement" and… "politics".
Well, there used to be at least one night of the year when all those words could be used together.
For decades all-night election results 'marathons' had us glued to TV screens with viewers straining to hear the first mention of their town, city or constituency.
But there is a good chance that anyone tuning in for the results of their council elections and city mayors' referendums on 3 May will be wasting their time.
A huge proportion of councils across the country have decided yet again to lock the ballot boxes away for the night and open them up the following morning.
Back door decision
In Yorkshire just Barnsley,Bradford and Rotherham will start counting as soon as the polls close at 10pm on Thursday night.
All the rest will not start the council counts until Friday morning.
Some of the counts for the referendums on directly elected mayors will not even start until 4pm on Friday afternoon.
Does a declaration in the cold light of day late at 2 o'clock in the afternoon generate the same interest and drama as a bleary-eyed result announced at two in the morning?
What is so puzzling is how this change in the democratic process has happened. It appears to have slipped in through the back door with almost no debate.
Local authorities have the legal obligation to run the polling booths and counts for elections at both parliamentary and local elections.
The decision on exactly when a count should start is in the gift of the local chief returning officer.
These un-elected council employees have no legal duty to seek the permission of elected members of their councils.
MPs 'too important'
At Yorkshire's two most recent parliamentary by elections, Barnsley Central in 2011 and the now famous George Galloway landslide at Bradford West in March this year, there was not the faintest suggestion that the count would not start immediately.
I think I got to bed at 5am after broadcasting the results from both of them.
The 2010 General Election saw virtually every returning officer around the country temporarily reversing the trend because parliamentary elections are "too important" to keep the voters waiting.
In fact, a tiny handful stubbornly clung on to their plans to wait until the following morning but changed their minds when MPs threatened emergency changes to election law, insisting on an immediate count.
The council elections have continued to be treated as far less urgent by many returning officers.
2011 saw a switch back to a timetable which frustratingly keeps large parts of the country waiting for their results.
Returning officers emphatically deny that this is about saving overtime payments to the dozens of staff required to run an overnight count.
Tired counters
They claim the introduction of huge numbers of postal votes in recent years has made counts far more complicated, and they do not want to risk tired counters making mistakes.
As for me, I wonder whether giving council staff an extra few hours in bed is chucking away one of the few chances to generate interest in politics from large numbers of people who would stay up all night to hear election results come in?
These same people would probably never dream of watching live broadcasts of Prime Minister's Question Time
For the record I will be up all night reporting from the Bradford count for the BBC's Election 2012 programme and Look North regional updates at 00.30, 1.30 and 2.30 BST.
Election candidates