Inspectors warn James Paget Hospital over patient care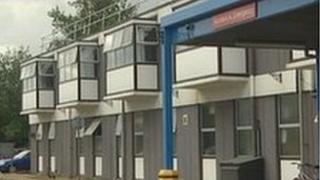 A hospital serving Norfolk and north Suffolk has received a warning over its standards of patient care and told to implement improvements faster.
The James Paget Hospital in Gorleston was inspected by Care Quality Commission (CQC) on 1 March.
The CQC report revealed failings in preparing patient care plans and in staff understanding of Do Not Attempt Resuscitation (DNAR) forms.
New chief executive David Hill said improvements were his "top priority".
Mr Hill, who took up his job after the CQC inspection, said: "The James Paget fully accepts that the necessary pace of improvement here has not been fast enough and we should have responded more quickly. "
Change 'too slow'
The CQC report said examples were found during their inspection of incomplete documentation which meant some patients' care was not properly planned.
The DNAR forms did not make clear how a decision not to resuscitate a patient is reached.
The hospital said it was working to improve communication with nursing and medical staff, with training stepped up.
It also confirmed documentation was also being standardised to reduce duplication and paperwork.
The policy on DNAR forms is also being reviewed to ensure decisions are clearly documented, bosses said.
Chairman Peter Franzen said: "We have come a long way over the past year in delivering significant improvements across the organisation, but the pace of change has not been quick enough to meet the level of care we strive to provide.
"The board is asking staff to reach the same high standards in bedside care that they have already achieved in cleanliness, achieving low infection rates and lower than expected mortality figures, which places us in the top 14 trusts in the country."