WWII Spitfire pilot Sgt William Smith laid to rest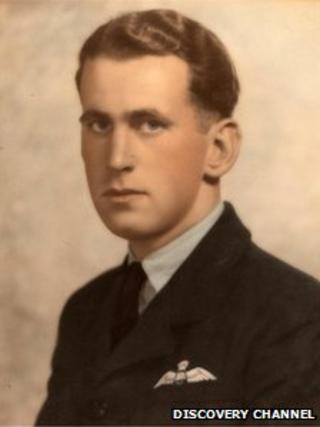 The body of an Australian World War II Spitfire pilot whose remains were found in a French field last year has finally been buried in northern France.
Sgt William Smith was buried with full military honours at a service near Cassel attended by his 84-year-old brother Bert and other family members.
It was thought Sgt Smith, who was based in Surrey, was shot down over the Channel off Dover by an enemy pilot.
But his remains were discovered in a French field by a Sussex historian.
Sgt Smith's funeral took place at 10:30 BST at the Commonwealth War Graves Commission section of Cassel cemetery.
About 20 family members travelled from Australia to pay their respects.
'Disappeared over Channel'
The 24-year-old sergeant's Royal Australian Air Force squadron was posted to Redhill and in May 1942 he had been escorting RAF bombers to France when he was shot down.
When his plane could not be found it was assumed he had crashed into the sea.
His aircraft was discovered by historian Andy Saunders and a film crew when they were looking for the wreckage of another Spitfire.
"We were specifically looking for another Spitfire, the pilot of which had bailed out. There was obviously some confusion locally about which aeroplane had crashed where," Mr Saunders said.
"It was a complete surprise to find Sgt Smith. All the records showed that he had disappeared mid-way across the Channel between the French coast and Dover.
"He was last seen at 20,000ft heading back toward England."
'Fight for freedom'
Sgt Smith's body was found with his dogtags in a field about 40 miles from the French coast.
"No-one knew he was there," said Mr Saunders.
When the remains were discovered, the local police, the Ministry of Defence in London and the Commonwealth War Graves Commission started work to trace Sgt Smith's family in Australia.
"What these men did was absolutely amazing," said Mr Saunders.
"He had come half way around the world to fight in the cause of freedom and lost his life."