Escaped prisoner Marcus Barney given extended jail term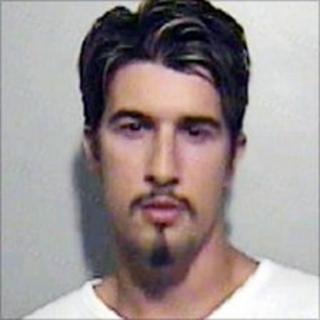 A man who absconded from an open prison in Derbyshire and fled to Australia has been given an extended jail term after being extradited back to the UK.
Marcus Barney, 27, was jailed for seven years in 2007 after admitting causing the death of Carol Tegg, 26, from Oxfordshire, in a car crash.
Barney, from Hinckley, Leicestershire, failed to return to HMP Sudbury after being granted temporary leave in 2009.
On Thursday, magistrates in Derby sentenced him to a further four months.
Barney was arrested in New South Wales last July, when legal proceedings began.
He still has 450 days of his original sentence to serve, Derbyshire Police said.
Barney was jailed alongside his brother Bradley Barney, 28.
Both pleaded guilty to causing death by dangerous driving and failure to stop at an accident at a hearing in Oxford Crown Court in May 2007.
The collision happened near Woodcote, Oxfordshire, in July 2006.
Ms Tegg died when her Citroen Saxo was in collision with a bus, on the A4074.
Her car burst into flames as she skidded to avoid two cars being driven by the brothers.
Speaking after the sentencing, Det Sgt Darren Pope said: "I hope this sentence shows that we will relentlessly pursue anyone who absconds from prison, no matter how far they try to run.
"Barney was in custody in Australia for several months before we brought him back to the UK. Now he will have to serve the rest of his term and an additional four months.
"The collision he caused was horrific and we were determined to bring him to justice for Carol Tegg's family."