Exmoor and Quantocks launch electric bike hire to attract visitors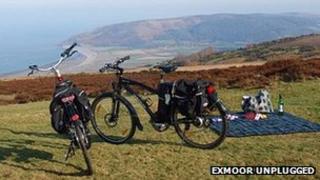 An electric bike hire project across Exmoor and the Quantock Hills has begun in a bid to attract more visitors.
The scheme has 18 bikes which can be hired from local businesses with a similar number of charging points across both areas.
Exmoor National Park said more bikes would be introduced if the project was a success.
The Devon and Somerset scheme followed the launch of similar projects in the Peak District and Lake District.
Dan James, from the national park, said: "We always need to come up with new and exciting ways of attracting visitors, especially those activities that are sustainable.
"If it's a success we hope to expand the project in the future."
It is hoped the scheme will help businesses and get more people out of their cars, said a spokesperson from Exmoor Unplugged - the project behind the scheme.
When fully charged, the bikes can travel about 20 miles (32km).