Great Western main line's Victorian buildings protected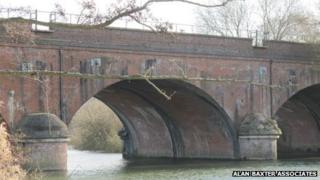 Plans are being drawn to preserve parts of the Great Western main line.
English Heritage is teaming up with National Rail while it modernises the track to protect old structures and buildings along the line.
The 116-mile (187km) line was built 176 years ago by Isambard Kingdom Brunel to open up trade routes.
It runs from London through Buckinghamshire, Berkshire, Oxfordshire, Wiltshire, Somerset and Gloucestershire to Bristol.
Network Rail is spending £350m on expanding and electrifying part of the Great Western main line over the next five years.
Views wanted
At the same time English Heritage is drawing up a list of bridges, tunnels, viaducts and other buildings along the line which it thinks are of particular importance and need protecting.
It has identified 50 buildings and structures as deserving closer attention and is now consulting the public to see which Victorian structures they love most.
People have until 9 May to make their comments.
Emily Gee, head of designation at English Heritage, said: "While the whole Great Western railway is historically remarkable, statutory listing is warranted for its buildings of special architectural or historic interest.
"After carefully examining the documentary evidence and the structures themselves, it is likely that certain further bridges and other railway buildings will merit listing, and others might be upgraded to better reflect their importance.
"English Heritage is working closely with Network Rail and their professional advisers - and now the public - to fully understand and protect the most special aspects of this significant Victorian railway achievement, to help prepare it for its next exciting phase."