Thousands across the north-east of England reliant on foodbanks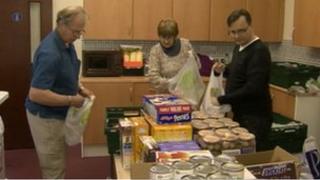 Thousands of people across north-east England and Cumbria who are struggling to feed themselves and their families are turning to charity in order to get by.
Figures from the foodbanks show that more than 4,350 families and individuals have received food assistance packages since the first "foodbank" opened in the North East in 2009, with more than 1,000 people already having received help in 2012.
One of those is Caroline Redden, who began visiting the food bank at Darlington's King's Church after her disability benefit allowance was cut when she was reclassified as "fit for work".
Although she is appealing against the decision, she has been left with a shortfall in the meantime, and struggles to find enough money for food as a result.
She says that although having to ask for help from the charity makes her feel "really low", she is left with no choice.
She said: "If I didn't have this I think I would starve... you have to swallow your pride."
Food poverty
Ms Redden, who receives food assistance three times a week, has also recommended the scheme to friends and family.
Her daughter, who has four children she struggles to feed, has just started coming to the foodbank, and she has also introduced a friend.
Foodbanks, usually established in churches, offer emergency parcels of non-perishable foods designed to last one or two days to those in need.
Figures indicate that their use is becoming more common, as rising food prices and the continuing economic downturn are combining to leave many feeling the pinch.
There are currently seven food distribution centres up and running in the North East and Cumbria, with one each in Sunderland, Durham, Billingham, Darlington, Peterlee, Whitehaven and Cockermouth.
Demand is such that another seven are expected to open in the coming months.
Middlesbrough, Redcar, Hartlepool, Morpeth, Gateshead and two locations in Newcastle will all see new foodbanks open in the near future.
It comes as charitable organisations respond to rising levels of food poverty, defined as "the inability to provide oneself with one hot meal per day".
Those seeking help do so because their finances are stretched, as wage and benefit levels have remained stagnant while food prices have risen dramatically in recent years.
Record high
The UN's Food and Agriculture Organization (FAO) reported in September that food prices remain near record-high levels after several years of sustained increases.
An Oxfam report last year warned that the price of key crops could rise by between 120% and 180% on average by 2030, with worldwide food prices already having doubled between 1990 and 2010.
Although many associate food poverty almost exclusively with countries in the developing world, economic conditions in the North East and Cumbria are forcing many to turn to handouts in order to get by.
The Trussell Trust, one of the organisations which has pioneered the foodbank concept, estimates that some 13 million people in the UK are currently living below the poverty line.
More than 60,000 people received assistance from the organisation in 2011 alone, with over 100,000 expected to benefit this year.
Kelvin Marsh, Food Store Manager at the King's Church food bank, says the project started in response to hearing homeless people in Darlington complain that they did not have a regular, reliable source of food.
He says that although some of those who depend on the service are living on the streets or suffering with substance abuse problems, many are resorting to the foodbank because benefit reductions mean they no longer receive enough to enable them to eat properly.
'Very sad'
Mr Marsh said: "We get people who, quite simply, have lost their jobs, both people have been working and have both lost their jobs through redundancy.
"They just get to a point of 'Do I pay the mortgage or do I eat?' It's a horrible situation for them."
The foodbank at King's Church receives produce which is about to spoil or which has been incorrectly labelled straight from manufacturers, as well as accepting food donations from the church's congregation and members of the public.
Mr Marsh says that, while people may blame a variety of factors for the apparently desperate state of affairs, there can be no dispute over the result.
He said: "I think it's very sad that, as a town, people are having to use the foodbank. Society has disappeared."