Severn Valley Railway runs special train for volunteers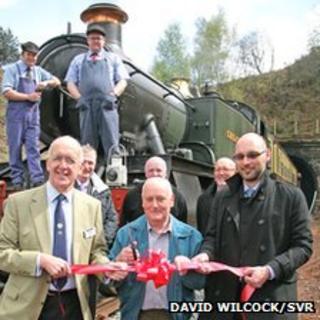 Eighty workers from a £250,000 project to improve a heritage railway line have been on a special steam train to celebrate the end of the scheme.
The Severn Valley Railway (SVR) train went through Bewdley Tunnel in Worcestershire, where track and drainage have been replaced.
SVR said work in the "cramped confines" of the tunnel formed one of its toughest civil engineering challenges.
The train went from Kidderminster to Bewdley and back.
SVR said it was reprising one of the "almost forgotten traditions" of people who built Britain's railways in the 1800s by holding the party on Monday to celebrate completing major engineering work.
Contractors as well as SVR staff and volunteers were involved in the three-month project in the tunnel, which is 480 yds (439m) long.
Heavy machinery
Drainage, which was first installed when the line between Bewdley and Kidderminster was built in 1878, had broken down in several places, the heritage railway said.
It said during the recent scheme special ventilation equipment was used to prevent those working in the tunnel from being overcome by fumes while using heavy machinery to improve the drainage system.
Between 30 and 40 SVR volunteers worked on this year's project and one of them, Bob Clift, cut the ribbon on Monday to declare the tunnel work complete, after his name was drawn from a hat.
The initiative to celebrate the end of the work also included a breakfast buffet for workers.
SVR has had a 16-mile line from Kidderminster to Bridgnorth in Shropshire since 1984.
The heritage railway first started running trains in 1970 over four miles from Bridgnorth to Hampton Loade.
Last month SVR announced plans for a £2m revamp of its Bridgnorth station, including proposals to construct a new station building and restore the existing 1862 building.